The other day as I drove though a neighborhood I saw a house with 2 teal-colored Adirondack chairs in the yard, with a teal-painted pumpkin on a table in-between; I thought they had painted their pumpkin to match their chairs! As I continued I saw more teal pumpkins, and thought "Pinterest must have had an article about pumpkin painting!" Later that might, someone inquired on my neighborhood's facebook page about the location of "teal-pumpkin houses" and my curiosity got the best of me- and I'm so glad it did!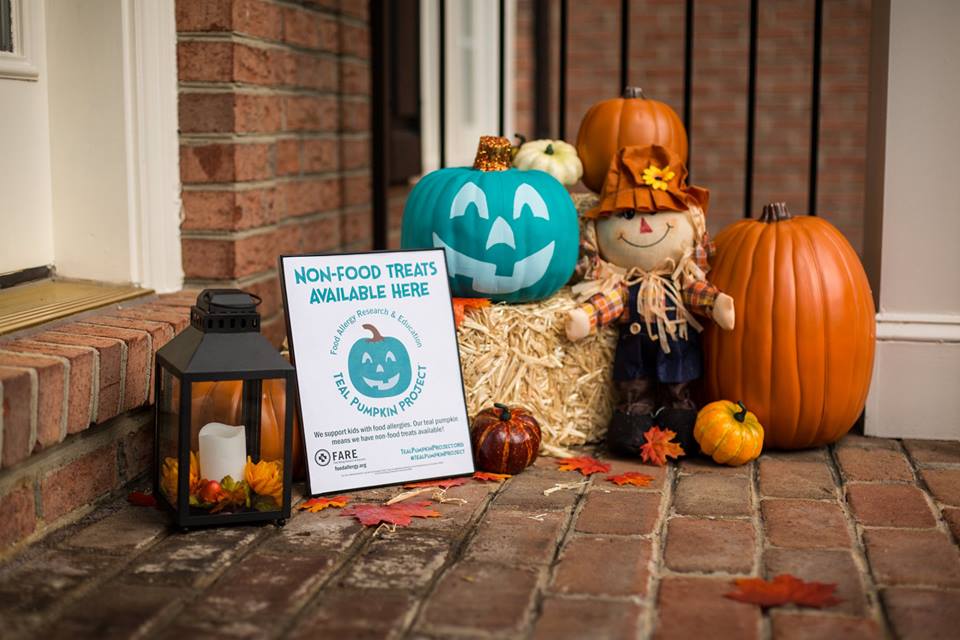 Turns out, the Teal Pumpkin Project® was created by FARE, the Food Allergy Research and Education organization, to provide a safe trick-or-treat alternative for children with dangerous, potentially deadly food allergies. There are over 170 food ingredients that have been identified as potential allergens, and many of them are found in the most popular Halloween candies! From the FARE website, here's how you can help provide a safe, fun alternative for kids with food allergies or other health conditions that required monitored food intake:
Putting a teal pumpkin on your doorstep means you have non-food treats available, such as glow sticks or small toys. This simple act promotes inclusion for trick-or-treaters with food allergies or other conditions.
Provide non-food treats for trick-or-treaters
Place a teal pumpkin in front of your home to indicate to passersby that you have non-food treats available
Add your home to the Teal Pumpkin Project map
Spread the word! Share the Teal Pumpkin Project with your friends and family
So whether you trick, treat, or just turn of the lights to netflix and chill, you'll know that children with food allergies have a safe, fun way to find treats that meet their needs!