As a long-time Houstonian, I've heard for years that "inside the loop" is the place to be. It's true- there are lots of great amenities within the squarish bounds of the 610 loop, but in the 35+ years I've been here, I have seen first hand how properties values and rents have skyrocketed in the area. Artsy 8 and 12 unit apartment complexes have long given way to expensive luxury townhomes, and the "funky vibe" of the 70's and 80's is all but gone. Now that the "Grand Parkway" has been built, I tell people all the time "the Beltway is the new loop," and I encourage people to consider options only slightly farther out. While researching some options for a client I came up with some interesting comparisons about Houston's innermost neighborhoods, and I thought I would share them in this blog post for others to consider.
One caveat: I am NOT a statistician, nor a graphic artist! These views represent my professional opinion as a Realtor®, and I am providing some charted data of reasonable accuracy at the time of writing to support my opinion. Please work directly with me or another Realtor® of your choice for more detailed data about specific neighborhoods or properties at any point in time!
That said, I pulled MLS data for various neighborhoods, including number of listings, highest and lowest list prices, average list price, and average list price per square foot. I also estimated each area's distance from Downtown Houston.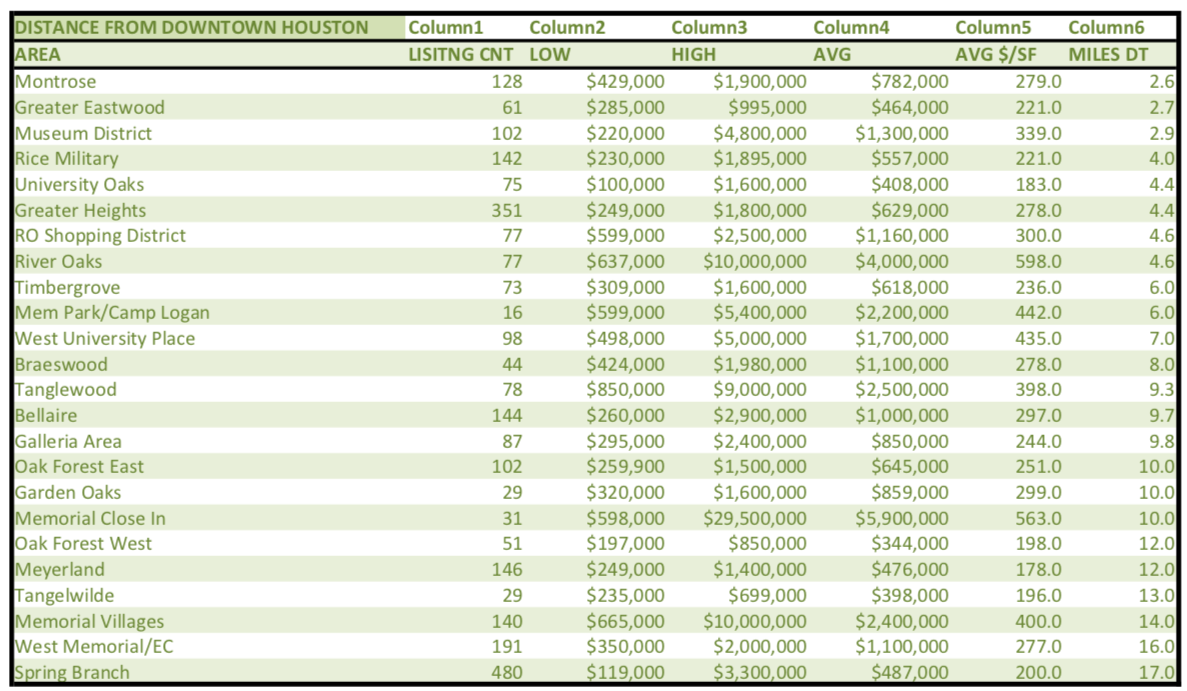 It's no surprise that the neighborhoods closest to downtown tend to be the most expensive. That's not to say that you cannot find affordable homes within 5-10 miles of the city center, but they will be harder to find, and are likely to need some TLC.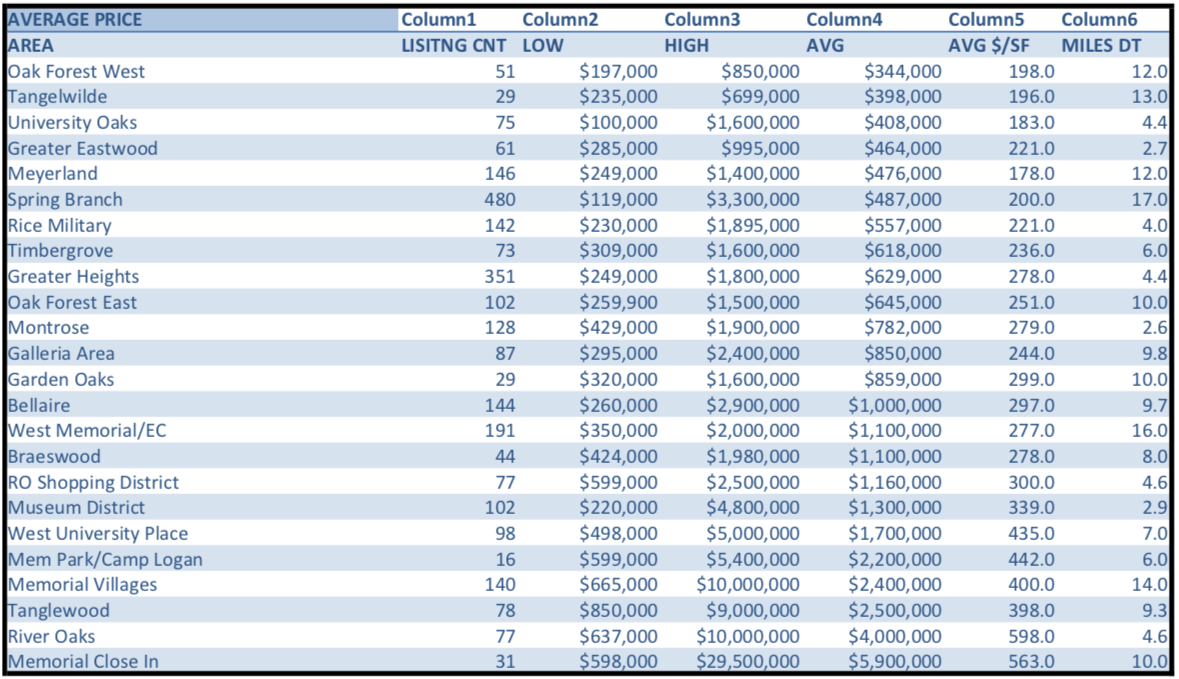 The most expensive listings are the stately mansions along Memorial Drive, just outside the loop. Built when land was plentiful in the area, these homes tend to be consistently enormous and opulent. With average prices near $6mil, you're not likely to find a bargain tucked in discreetly among the tree-filled lots! River Oaks, Tanglewood, and West University vie with Memorial for the most-prized addresses.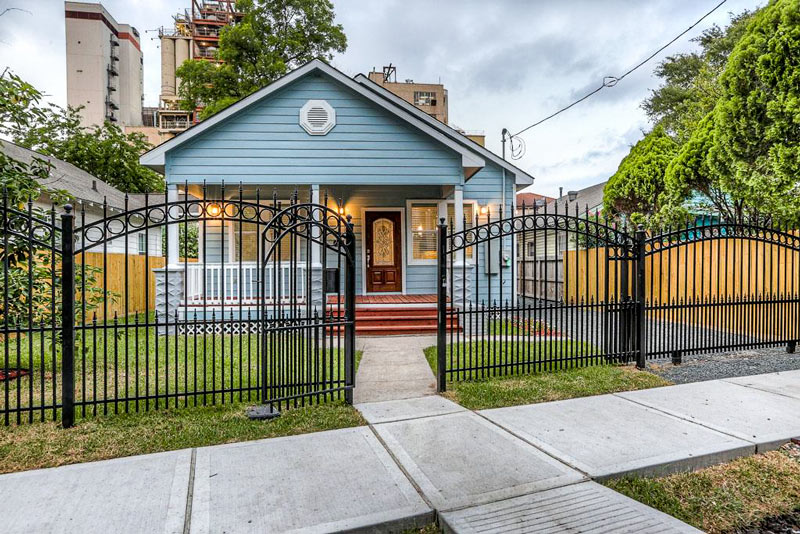 There are a couple of neighborhoods within 5 miles of downtown where you may find some listings under $500k. In Greater Eastwood, built as a working-class neighborhood in the 19-teens, you can still find blocks of arts-and-craft and prairie-style bungalows that haven't been bulldozed. Where Montrose and the Heights were once considered the enclave for first-time homebuyers with more talent than money and a respect for restoration, Greater Eastwood is filling the gap.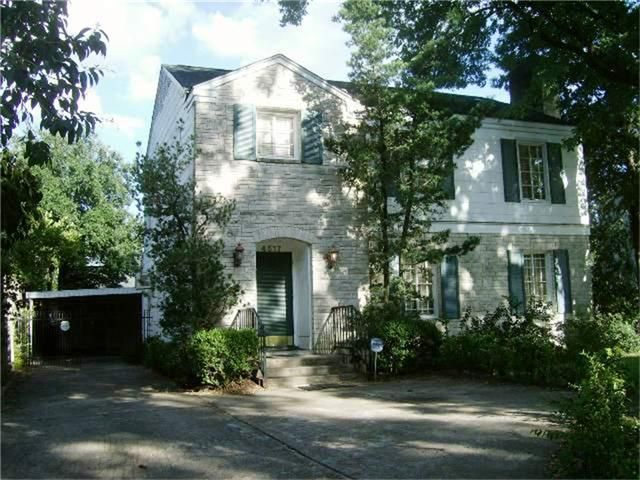 University Oaks, (not to be confused with West University) was built in the 40's with stately homes for many of Houston's most prominent business owners and professors. Many of these homes have been spared the bulldozer as well; because they are larger than the bungalows in Greater Eastwood, their restorations may be a bit more requiring. Still, at an average of $183/sf, they offer an option for anyone needing a larger home close to town.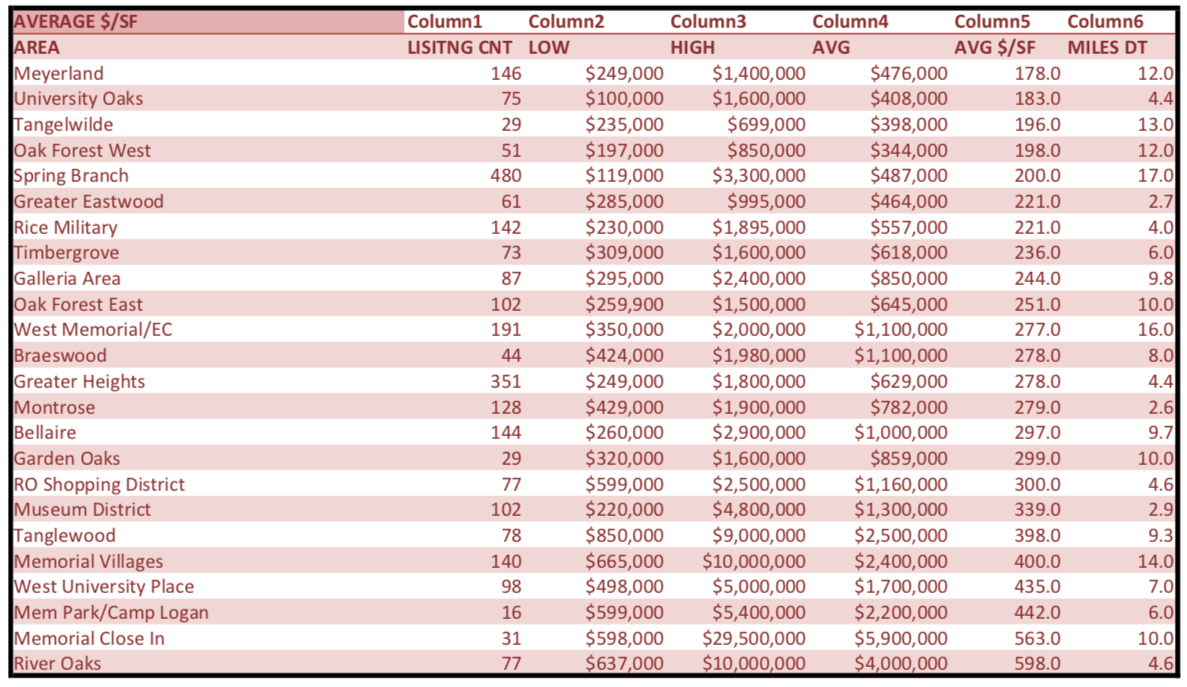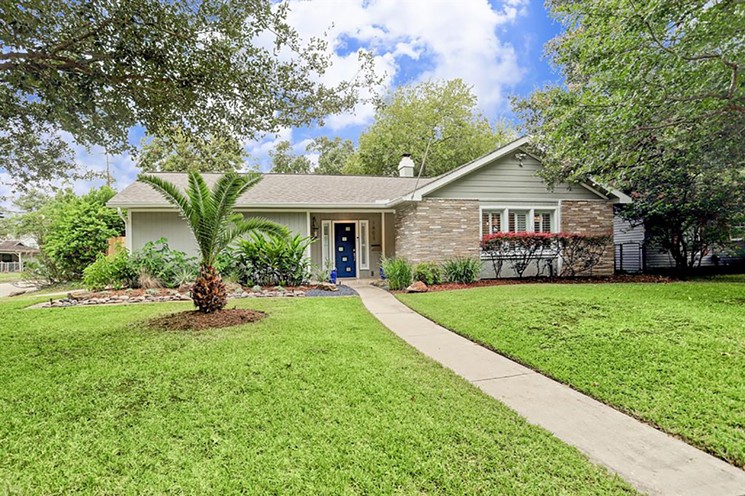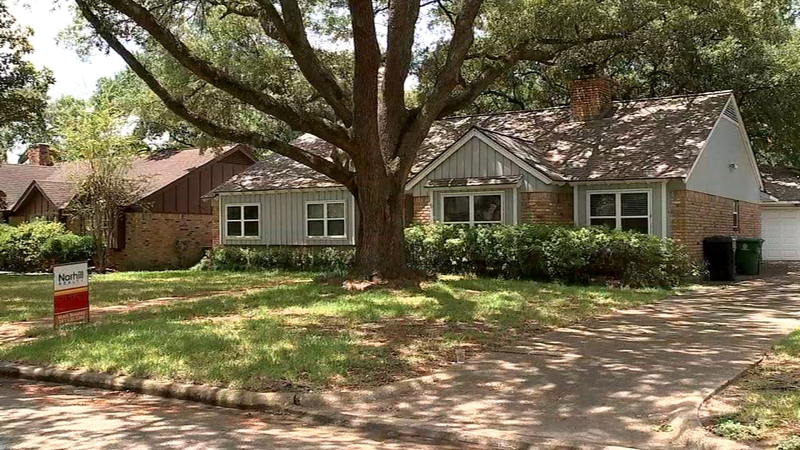 Outside the loop, Oak Forest and Spring Branch offer a great combination of affordability and close-in convenience. Don't let the statistics about Spring Branch dissuade you; while the highest listing price is quite high, the lowest one is very low! This is indicative of "the Branch's" enormous size and diversity. Bordered on the south by I10, east by 610, north by 290, and west by Beltway 8, Spring Branch is Houston's largest "Super Neighborhoods." So large, in fact, that Spring Branch actually encompasses 5 separate "Super Neighborhood" designations. The area offers everything from small postwar bungalows to Spring Valley "mansionettes," and builders are starting to discover the Branch in their never-ending quest for underutilized land where they can build new homes.
Two questions come up often, especially when discussing near-town properties.
Are the schools good? That is a very subjective question, and one that I can't answer for you. Your preference for schools will depending greatly on the needs of your children and your preferences for how they are taught and with whom they learn. I'm linking a couple of tools in this paragraph that can help you along that path.
How is crime in the area? Again, I'm not a statistician, but there are people who make their living analyzing crime statistics. Unfortunately, crime is going to exist in every community, so your due diligence is to determine if the risk of crime in an area is acceptable to you, and to take steps to prevent crime, wherever you buy.
If you found this information helpful, drop me and note and let me know! And if you're interested in more information about a specific area or part of town, let's set up a time to talk!