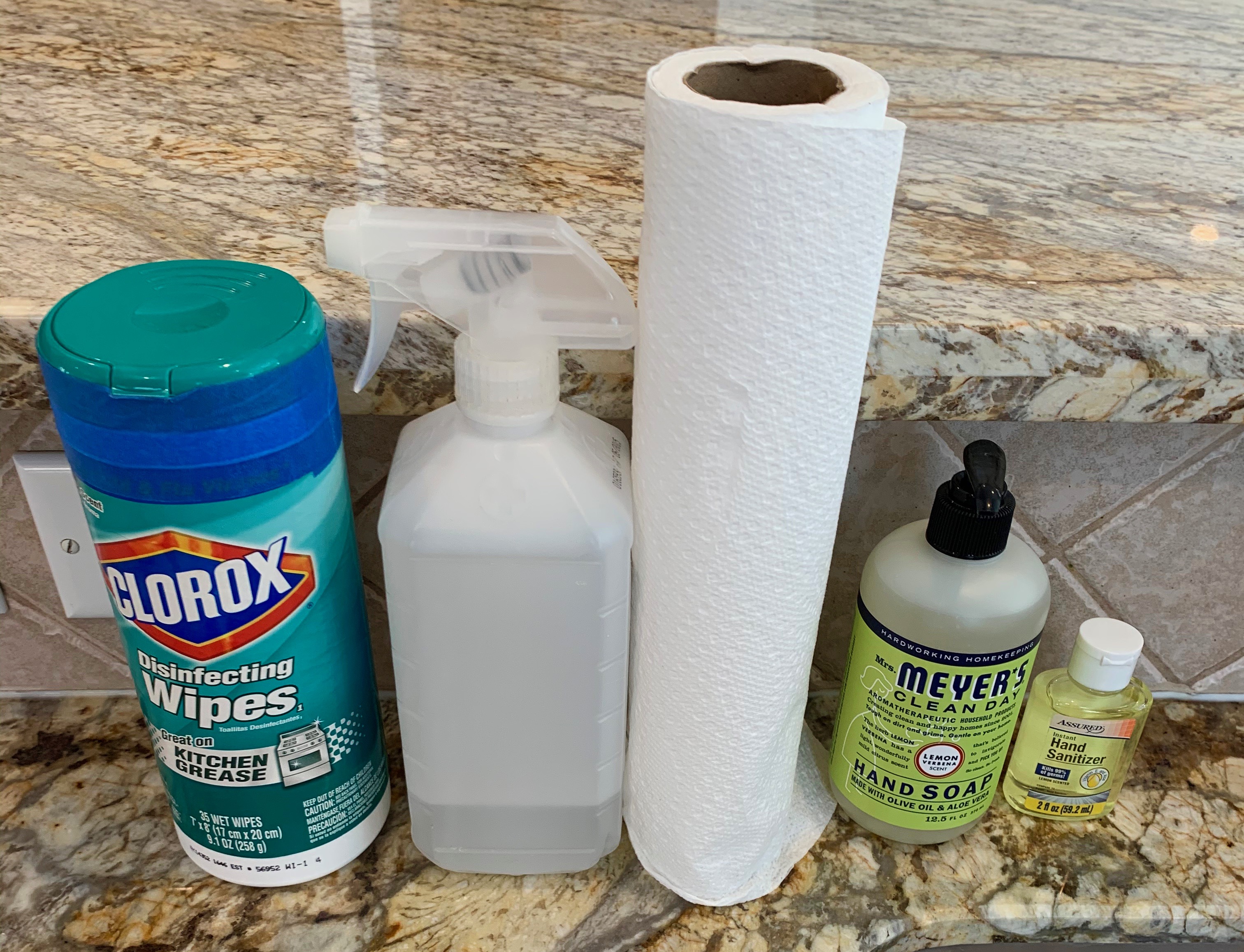 By now, all of us have been affected in some way by the COVID-19 pandemic affecting the world. As many of you make the transition to working from home, I'm thankful that my business is mobile, and I'm used to working just about anywhere! By telephone, Skype, and secure document transmission, I'm here to work with you as always, and will continue to help with your real estate needs with a few adjustments.
My "open house kit" (shown above) now goes with me to every showing or meeting. Even in vacant homes, everything needed to sanitize hands and surfaces will be available.
As of now, I will continue to host open houses, with a preference toward vacant homes. I'll work with all guests to ensure we respect social distancing.
I will still schedule and conduct showing tours. For buyers who are not comfortable visiting homes, I'll happily conduct agent previews, Skype walkthroughs, or virtual tours to help you narrow down your list while limiting exposure.
And of course, my website and mobile app are at your service 24/7 for you to browse and explore listings.
There's been a lot of uncertainty, and I wanted to take a few minutes to address some concerns shared by many in regard to their real estate plans.
Should I take my listing down?
Do you still need to sell? If so, there is no reason to take it down. If you are living in the home and are part of a high-risk group, we can discuss some options to protect your health before we end the listing altogether.
Should I put off selling?
Not if you need to sell. While there is definitely uncertainty in the financial markets right now, financial advisors will remind you to keep an eye on the long term, and the market you sell in will be the market you buy in, whether you reinvest in real estate or pursue other strategies. If the offers you receive are lower than you are willing to accept, you simply wait for a better offer.
But what if prices drop?
Again, the market in which you sell will be the same as the market in which you buy. For example, if your ask is $300k, which you intend to roll into a better house priced at $400k, the market forces will be the same on both houses. Even if you end up accepting less for your home, the new home will be discounted by the same market forces, so the relative distance between the 2 prices will be the same.
Should I wait a while before I buy?
No one knows what prices will do in the long term, but my general advice is to buy when the right property is on the market. Your financial advisor is the best person to guide you on your preparedness for owning a home, but they are very likely to tell you that buying a home will almost always give you more financial stability than renting, especially over time. And if you're selling and then buying, you will want to buy in the same market cycle, to ensure you maintain the value of the proceeds from the home you sold.
Should I consider refinancing?
Absolutely! Rates are at all time lows, so depending upon when you bought, now could be a great time to get a lower rate. With Keller Mortgage's ZeroPlus financing and $1000 credit toward 3rd party fees, you can take advantage of even relatively small drops in rate.
I'm available to answer your real estate questions and help in any way I can. While we've all got time on our hands, it's a great time to set up a call to discuss your real estate goals, both short and long term!