Baker German Chocolate Cake Recipe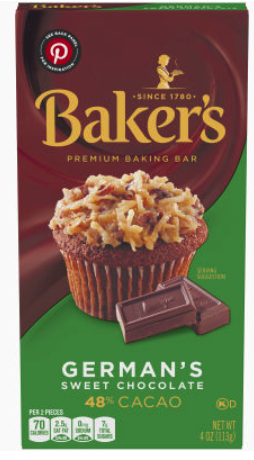 In all fairness, this is not a family recipe- at one time, at least, it was printed inside every package of Baker's German Sweet Chocolate that was sold! But it was a family favorite, and it was John's favorite birthday cake, so it's what we alway had. Truth be told, I like it too, and Momma made one just about every year.
I won't post the recipe- you can follow the link above, or it's probably still printed on the inside of the chocolate package. I used to have the package that mom saved, because she always used the same one- never the copy that was printed on the package she just opened. I was going to scan it in for you, by I can't seem to lay hands on it.
I have not had this cake in years, but I seem to remember it being a little dry. It would probably be really good with some whipped cream squirted on top, but we never did that.
What was your favorite go-to birthday cake?