This is, quite literally, one of those recipes that has been passed down from generation to generation! I know this is how Zha Zha did it, and she would have taught Momma. Because of the size of our family, we had no choice to but to learn it, since we were all involved in the process. And since then, we have taught my brother's son, and he does it so well that my nephew is now charged with cooking the shrimp every Christmas Eve for our family's celebration.
Fried Shrimp for Christmas Eve is our current tradition, but when we were kids, it was usually eaten on birthdays, when the birthday boy got to decide what we were having for dinner. My brother John and I are 4 years a 4 days apart in age, and since our birthdays were so close together, Momma usually combined them on the weekend prior in order to make this time-consuming treat for the entire family.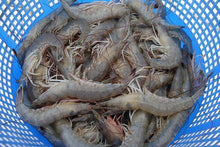 The process started with fresh-caught Louisiana shrimp, which Daddy would procure by driving all over town looking for one of his favorite shrimp trucks. There were certain trucks he trusted to alway have the best, freshest, largest shrimp, but they moved around from time to time, so he'd usually start to scout them out a few days early so he'd know where they were going to be. These guys shrimped all night and then hauled their catch in each morning, so they were fresh from the Gulf. Momma wanted them big enough to be a double bite full, but not so big they tasted like iodine. That was Daddy's marching orders, and he never failed! And he'd buy tons- like 18-20 pounds if we were all home. We were big boys and big eaters!
The older boys would take their turns at the big triple-bowl sink in Momma's kitchen, heading , peeling, and de-pooping the shrimp one at a time. Jumbo shrimp are usually about 25 per pound, so that's 500 to be processed! Never one to waste anything, Momma reclaimed the heads and shells and put them in a big pot of water on the stove to make shrimp stock, which she kept in the freezer to make gumbo later.

Once the shrimp were peeled, we were ready to begin the arduous breading process. Momma would take everything off the kitchen counters (except the microwave, which she deemed too heavy to move: "We can work around it") and lined every linear foot with Cut-Rite waxed paper. Then Arthur and I would take to our stations, and the breading began!
Momma was in charge of seasoning and mixing the egg mixture. I was always on the other side of the sink, so I don't know how many eggs we went through, but for that many shrimp I'll bet we used almost a carton. She would keep filling 2 of Arthur's bowls, the one for flour and the one for the eggs mixture. I was in charge of the other bowl, which I kept filled with the secret ingredient.
Momma didn't like battered shrimp- she said that even with the big shrimp that we used, the shrimp would be overcooked before the batter was cooked. And none of us liked cornmeal on shrimp- that belongs on catfish!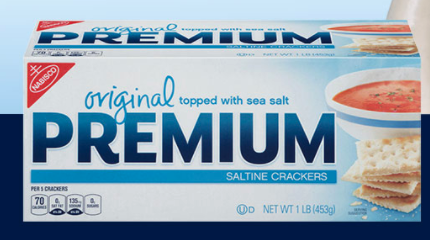 Our secret ingredient is saltine crackers, ground in the blender to a consistency just slightly coarser than cornmeal. (Starting in the late 70's the Cuisinart arrived in America and we could do much bigger batches!) According to Momma, crackers were perfect, because they were already cooked, so you didn't have to worry about raw batter or flour. The shrimp always cook perfectly and they are crispy and delicious.
The process would start at one end of the counter, where Arthur would dip each shrimp into plain flour, then into the seasoned egg mixture, and then into the crumbs. Once covered with crumbs, he would place each shrimp onto the waxed paper, and before you knew it, the entire counter was lined with little dead-shrimp soldiers, ready to come back to life in the fryer!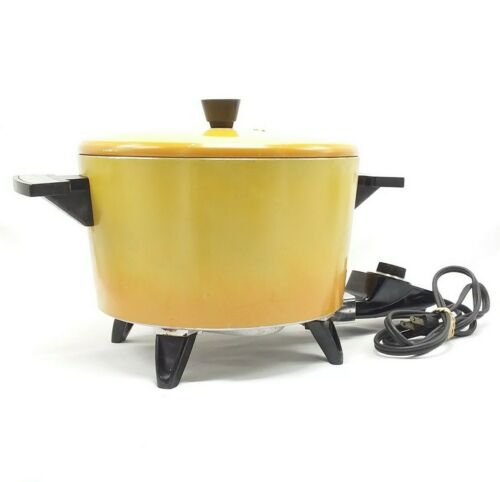 And oh what a fryer it was! Momma would fill it with peanut oil and set it on the stove, in all its harvest gold glory, so that the extractor fan could suck as much of the cooking odor away as possible. (All I can say is give it an "A" for effort!) Sometimes she had 2 fryers going, but this one was the steady eddy that recovered faster, held more, and lasted longer than all the others. It went to Goodwill after she passed, but I'll bet someone is still using it to fry up something delicious!
She cooked the shrimp about 18-20 at a time, as I recall that being the capacity of the basket. As each batch finished, she would open the door to oven, which was set on 200 F, and dump them onto the grocery-bag-lined baking sheet held within. By the time we had finished the breading process, she would have about half of the batches done, so we were allowed to start eating while she finished cooking. Even as a small boy of 8 years old, I could pack away over of a dozen of these tasty morsels, and because it was my birthday, I would not leave the table until I was so full I was ready to pop!
Fried shrimp is still my favorite food of all time, and our family recipe is still better than any I have had anywhere else!