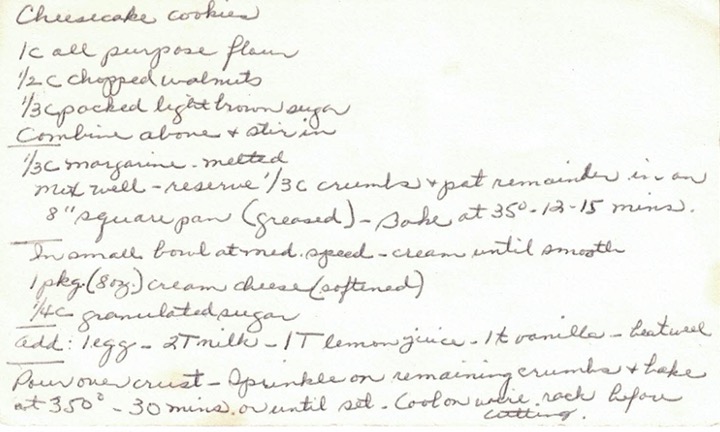 From this list of recipes I'm publishing you would think that all Momma ever fed us when we were kids was sweets, but that couldn't be further from the truth. She was a really good cook, but she made most of her mains and sides from memory, or invented them as she went along. She was one of those people who could just tell when a meatloaf was done, and she knew how much flour and liquid per egg would make her dumplings the correct texture, so sadly, none of those were ever written down. Luckily, for the family favorites like gumbo, jambalaya, fried shrimp, etc, she taught all of us, and I still cook that way to this day.
But baking is another thing, and she knew the measurements had to be accurate for reliable results. Plus, she didn't make these all that often, so they weren't committed to memory.
These cheesecake bars were one of the first things I learned how to cook. I don't even remember how it transpired, but I suppose she was tired one day and didn't feel like making them, so she let me do it. They aren't hard to do, so my first attempt was a success, and from then on, anytime I had a school bake sale, or a bring-a-pot, or anything else that would require her to send something, she'd have me make these. It's all ingredients she would have always had on hand, so it was quick, easy, and relatively mess-free if I didn't get in a rush.
Wait til they cool before cutting, if you can!