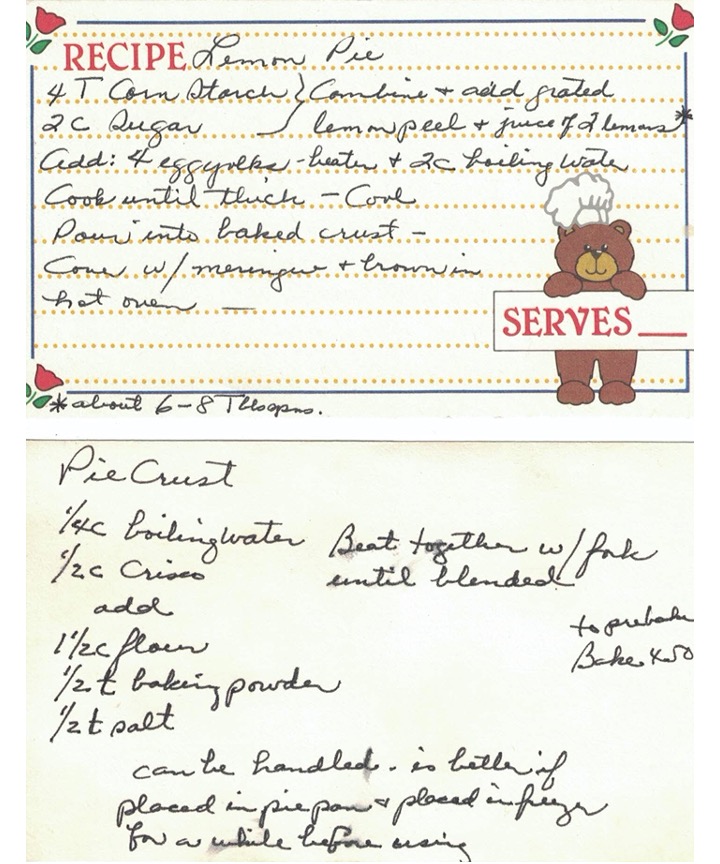 Here's a 2-fer-1 for you: Lemon Meringue Pie and Mom's boiling water pie crust. She was a rebel in the kitchen!
Actually, her mother, whom we called Zha Zha, was the queen of the lemon meringue pie. She had big lemon tree in her backyard that was a prolific producer, and even though she was crippled with arthritis, she could still find the strength to pop one of these in the oven now and then. Later Momma started making them, but aways said that her's weren't as good a Zha Zha's. Of course I loved them both! I don't know if it was the fresh lemons or the recipe, but it was the most tangy-sweet-tart delicious pie I've ever had. I'm not sure where mom wrote this down, but it clearly wasn't at her house, as witnessed by the non-standard 3x5 card!
This little recipe card makes this pie look deceptively simple, but there's actually some real skill to making this. Egg yolks and boiling water make a set custard, and can be quite tricky. Add the water too slowly and the custard won't set. Add it too fast, and they eggs will scramble and you'll have to start over.
And that last little step: "Cover w/meringue & brown in hot oven-"
Simple, right?
Meringue can also be a little fussy and tricky. Separate your eggs while they are cold, but allow the egg whites to come to room temperature before whipping. While you can use simple whipped egg whites, meringue tastes much better with 1/4 cup of sugar per 4 eggs, plus about 1/4 teaspoon cream of tartar to help stabilize it. Make sure your bowl and beaters are completely clean and free of oil or they won't whip. Finally, whip just to stiff peaks but not beyond... the meringue should look smooth and silky... if it looks grainy and dry, you've over-whipped.
Cool the pie, but don't refrigerate or your meringue may weep. Spread the meringue on top and bake it at 350F. for about 10 minutes, but keep an eye on it so it doesn't scorch. Now, refrigerate completely. If your custard has set and your meringue is a success you'll have beautiful, creamy-tart slices under a cloud of fluffy meringue. If not, you'll still have a delish lemon pudding, and good excuse to try again!