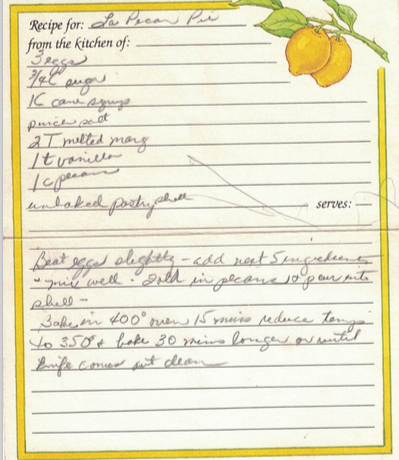 I've posted this before on Social Media, but I thought I would go ahead and put it here in the blog as a permanent record of this amazing recipe. I still make this pie to this day, and it's one of the few desserts that no one can say no to!
I use frozen pie crusts from the grocery store- just take it out to thaw before filling. Or make your own if you're made of time!
Cane syrup is a Louisiana staple, and is one of the few Louisiana foods I just can't stand! The brand name is Steen's and comes in a yellow can- I believe this is the only source of real cane syrup you can buy. It's a thick brown syrup with a molasses-sulfuric taste that I find gawd-awful, but my mother and many others swear by it. It was tolerable in the pie, but now I use dark Karo syrup and it turns out just fine. Give it a try if you'd like, and let me know what you think!
Here's another "secret" my mother taught me... A cup of chopped pecans weighs way more than a cup of pecan halves- and pecan halves are much more expensive. If you're buying halves, you will end up using almost 2 cups. Give the pecans a rough chop so they are in pieces about the size of unpopped popcorn. You won't want to grind them into flour. Chop enough to fill a one cup measure, and mix these into the recipe. After you pour the mixture into the shell, arrange unbroken pecan halves in concentric circles on top to make a beautiful finish.
Put a sheet pan under your pie pan so it doesn't spill over into your oven. The recipe calls for a 30 minute bake time, but I find it takes a little longer- 40-45 minutes- to get the center set so it will slice without collapsing. Use the knife or toothpick test to make sure it's set.
As sweet as this is, it's even better with a little homemade vanilla ice cream, and I'll share that recipe tomorrow!