5 Things That Make Your Home Seem DIRTY!

They say the devil is in the details, and no where is that more apparent than in a vacant house. When you move your possessions out, dirt, wear, and tear is laid bare for all the world to see, since there's little else to look at! Here are 5 places the a professional cleaning service will look for hidden dirt and remove it so your listing shines:
#1- Carpeting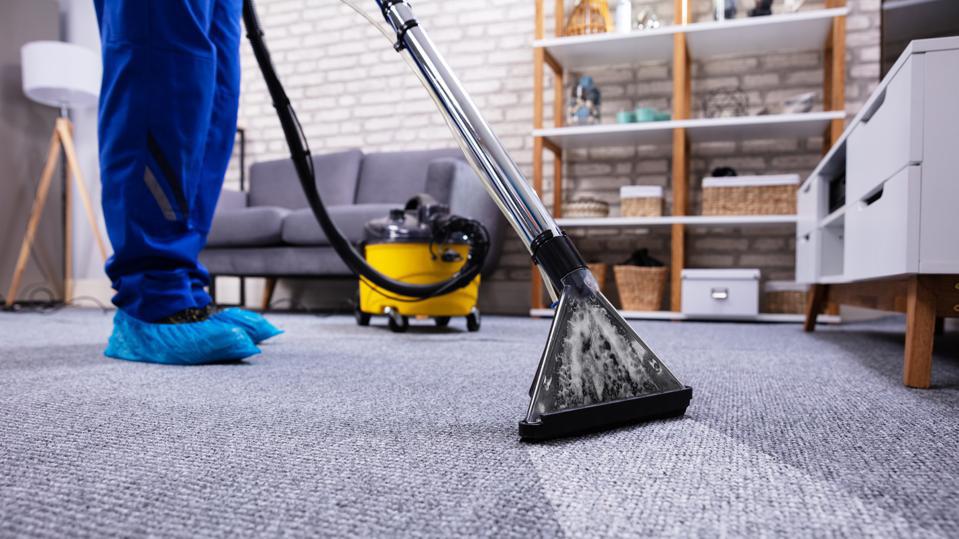 If you have wall-to-wall carpeting in your home that is more than a few years old, there's a really good chance you'll want to replace it. Homebuyers today are understandably squeamish about germs and sanitation, and nothing looks germier than dirty, worn carpet. Especially if you opted for light-colored carpeting, there's a good chance it's going to look worn and dirty. If it's lightly soiled and doesn't show any wear, a professional carpet cleaning may do the trick- but if there are spots where the pile is diminished and there are obvious signs of traffic, either rip it up or prepare yourself to make price concessions.
While you're ripping it up, you may want to strongly consider replacing it with something other than carpet, especially in a public room like a den or dining room. Many buyers today are "carpet averse" and would just as soon have none in the home at all; others are okay with carpet in bedrooms, but prefer more durable, cleanable flooring in other rooms.
#2- Grout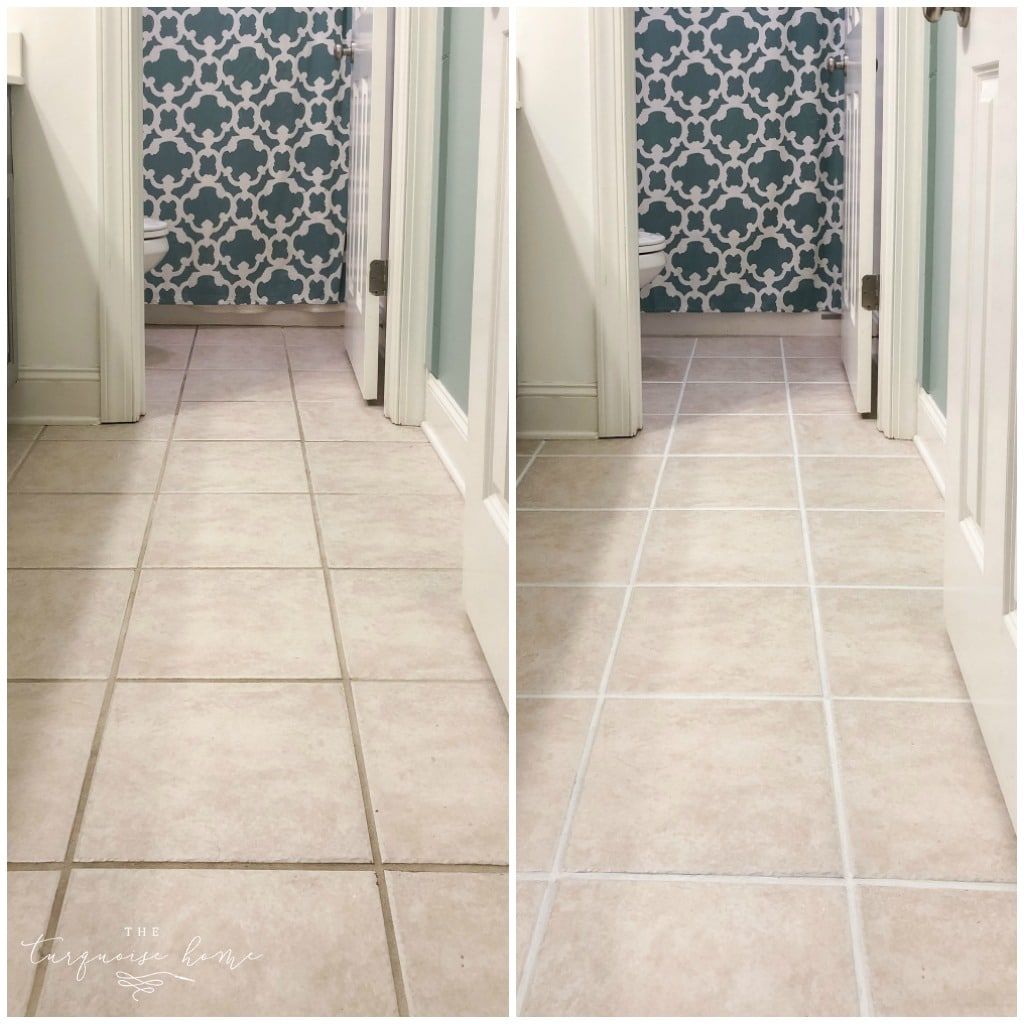 Nothing makes a bathroom look worse than dirty grout- and even though you've scrubbed it with a toothbrush and bleach, borax, oxybrite, and every other hack you've seen on the internet, you still can't get it white! That's because it's not dirty, it's stained, and no amount of scrubbing is going to get it white. You may have even brought in a "professional" who tried scrubbing it with electric brushes or steam cleaners, but it still looks dirty. That's because your grout can't be cleaned- it needs to be restored. Don't worry- that's probably not as expensive as it sounds! Once caveat to that: if your grout is cracked, crumbling, or missing in places, it may be need to be replaced. Grout replacement is the option when the tile is sound and in good condition, but the grout is compromised. A tile professional will chip the grout out, clean the surfaces, and replace it with new grout. This can also be an option when the grout choice was an unfortunate color that you now regret; they can replace your grout with any color you choose. If your grout is in good condition, but stained, there's in even less expensive option to replacement: grout restoration. A professional grout restorer can come in and literally re-color the grout to its original shade. In some cases, they may be able to alter the shade if the color change is not too drastic. In any case, they will use a special product to "paint" the grout back to its original color. Then, they will apply a protective sealant that will protect the new color and keep it from getting stained again. The process sounds painstaking, but for an experienced professional, it's quick work, and doesn't cost and arm and a leg. I've seen remarkable results in my client's home, and I have resources available on my Resources for Buyers and Sellers page.
One other caveat: if your grout is mildew stained, you'll need to make sure the mildew is gone before restoration can take place.
#3- Air Vents/Ducts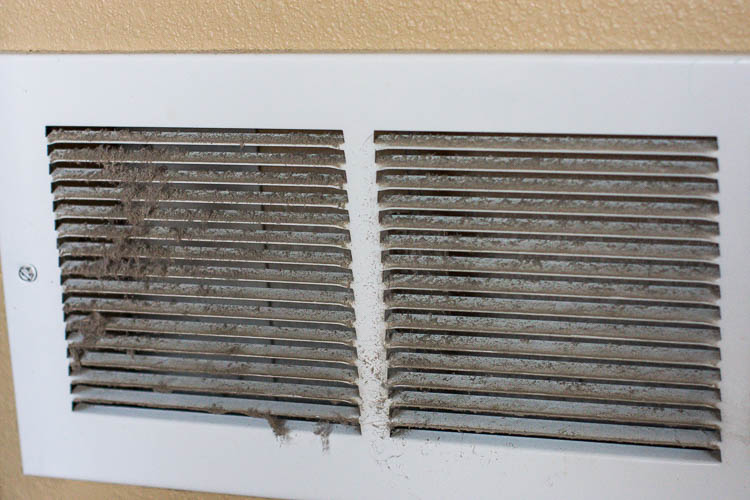 This is another issue that I see all the time, and it's sad because it can be a relatively easy fix! Obviously, the first step would be to vacuum away any dust and dirt. If stubborn dirt and stains remain, you can usually remove the vent with 2 screws and take it down for a good scrubbing. If it has mildew stains, a little bleach may get them looking like new. If that doesn't work, you should consider replacing them. If they have been painted over in the past, you should absolutely replace them- nothing ages a home more than painted over vents and switches! Replacement vents are not expensive, and you can generally find them at your local home center. If you have vents that are odd sizes, you made need to order them online. And don't forget the larger return air vents; since they draw dirty air into the filter, they are probably dirtiest of all.
While you have the vent covers off, take a look into the ductwork- you may need a flashlight- to see if dirt and dust has built up in there. If so, you should call in a professional duct-cleaning surface to suck that out and get them clean; that can make a difference in #5, below! Buyers (and there inspectors) will notice.
#4- Appliances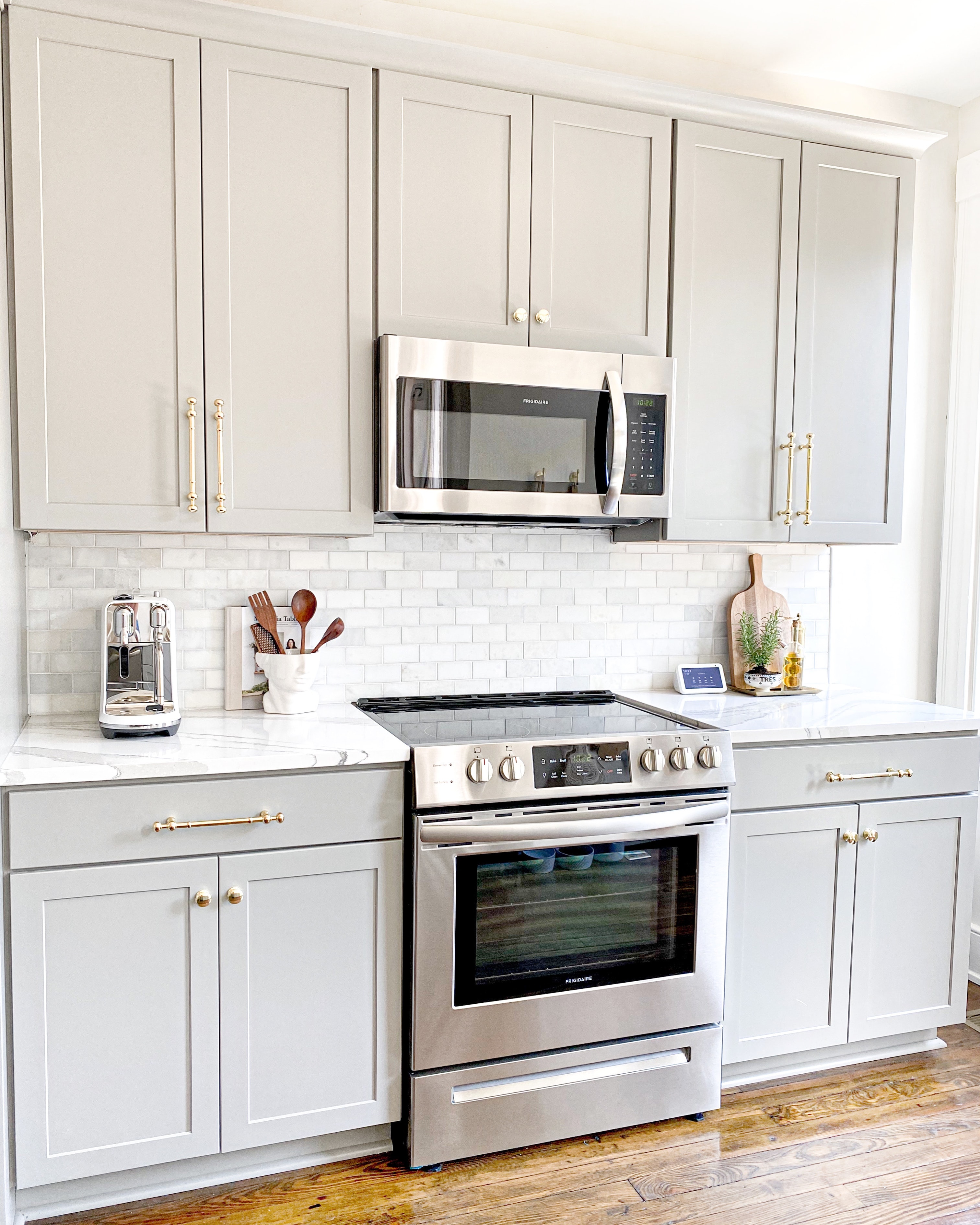 This one should be a no-brainer, but I cannot tell you how many times I have shown houses where the oven had not been cleaned, there were stains in the refrigerator, and the dishwasher smells weird! These are generally fixable, but you may need the help of a professional for some of it.
Let's start with the oven- nothing baffles me more than a listing with a dirty self-cleaning oven! Just run the cycle and wipe the ash out- done! Quite often, this is all that's needed, but if there are still some stubborn spots on the inside, a commercial oven cleaning product may help. The once place that the self cleaning feature can't clean is the door seal and gaskets- you may need a little elbow grease to get those clean. And if there are stains in between the glass, you can remove the oven door, take it apart, and clean in between there. Search for your oven model on YouTube and you'll probably find a tutorial on how to remove and clean the door. Or, just hire a professional cleaning service and let them know you want them to do it. And don't forget the microwave and vent hood- run the filters through the dishwasher and clean the bottom as will as the inside.
Refrigerators can also be taken apart for a thorough cleaning. Once you've removed the drawers and bins for a good soapy soak with some bleachy water, you can generally also remove the racks and tracks that they slide into. Depending on the make and model, you may need to remove a screw or 2, but they should come out for a good soak and scrub... use the bathtub to soak large pieces. If your fridge is particularly complicated, you may want to snap a couple of pics of the disassembly to make sure you can get it all back into the right place! And while you're at it, pull it out and vacuum the coils behind and the grille underneath.
The dishwasher is not generally something we think of cleaning... it sort of cleans itself, right? When we're using it every day or so, there's a constant flow of water and detergent through it, so we don't generally have to do much. But, once you've moved out and aren't using it every day, food particles in the filter and pump can decay and stink. Run one or two empty cycles with a commercial dishwasher freshening product to prevent odors.
#5- Odors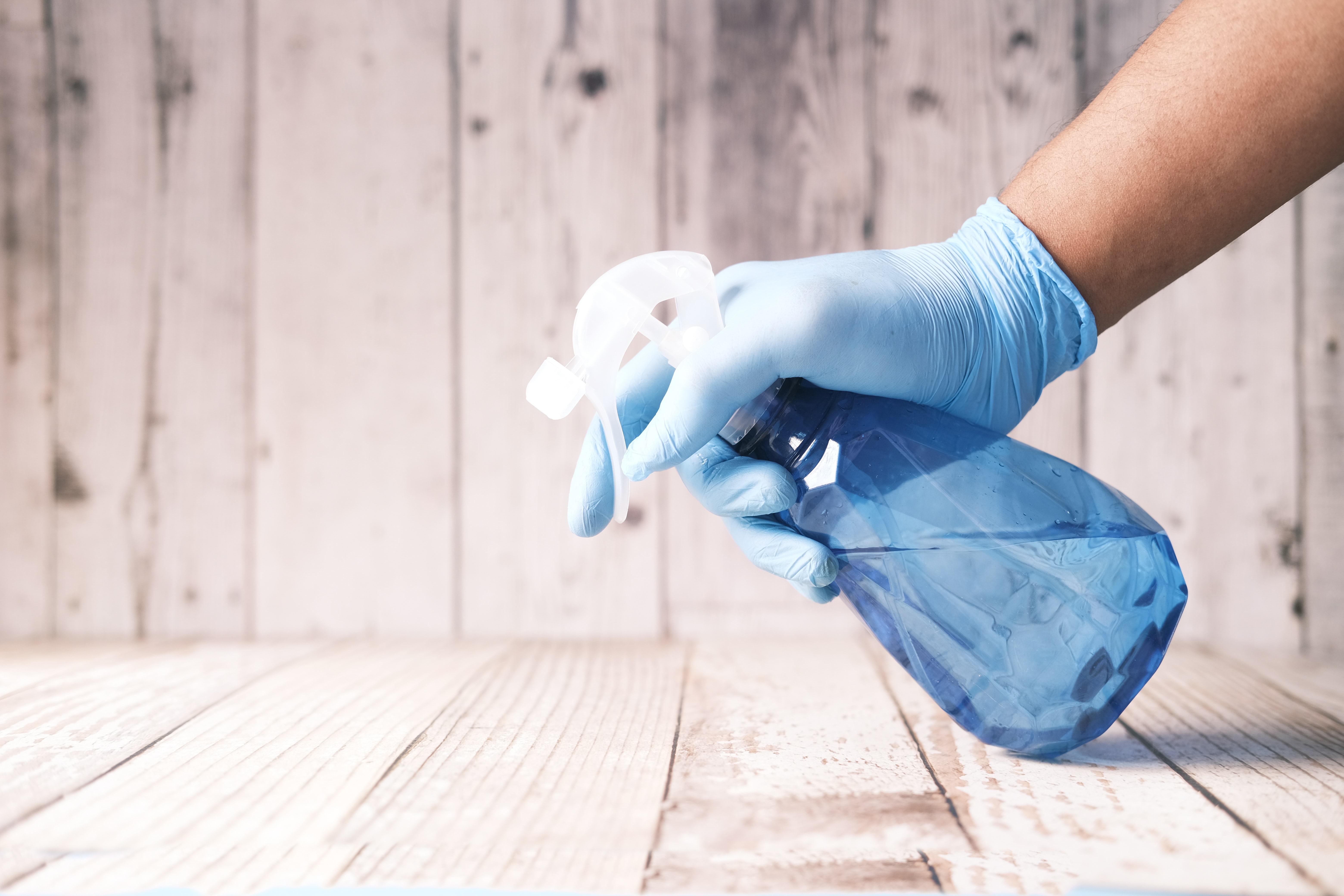 No matter how carefully you clean, all homes have a certain "olfactory patina" that's not really noticeable to its occupants. It's not necessarily unpleasant, and it may not be considered "stinky," but that fragrance lingers, and seems to be magnified when the home is vacant. Don't rely on your own nose- ask your Realtor or a trusted friend to give you their honest opinion. Especially if you've had pets or kids in the home, you may need to have it professionally deodorized and sanitized.
Some companies that offers sprays or deep cleaning as a form of odor removal- they will be your choice if you are living in the home. These treatments will handle some odors, and are safe to accomplish in an occupied home.
If you have particularly stubborn odors, or have already moved out of the house, and residential ozone treatment is a great idea. Ozone is actually poisonous to humans, so the home has to be vacant when it's done, but it also kills bacteria, microbes, and other tiny organisms that may be the source of stubborn odor. You'll need a professional to do this safely.
No matter the age of your home, dirt has been collecting in it from the day it was built. The more evidence of that you can remove, the more favorable it will appear to buyers. Count on your Realtor to give you honest advice about areas where a little extra cleaning can make a big difference at the closing table!