Whether you're cooking, eating, or avoiding turkey this year, you're sure to be around it! Here are my Top Ten Tips for making Turkey Day safe, easy, and delicious!
10:
Fresh or Frozen?
There are more choices than just fresh or frozen! You can buy a turkey pre-cooked, pre-brined, injected, basted, Kosher, grain-fed, free-range: it's mind boggling! There's even a "super-refrigerated" option that is somewhere between fresh and frozen! Here are some tips from The Food Network to help you sort out the choices!
.
9:
One pound per person will leave plenty for leftovers!
When we were kids my my mother bought the biggest turkey she could find, and we waited all day for it to cook! What a shame she never saw this article from Better Homes and Gardens Magazine, that explains how to cook 2 smaller turkeys instead of one big one!
Not only could we have had dinner on time, each turkey could have been seasoned differently for more variety on the table!
.
8:
Thaw frozen turkey for one day per 4-5 pounds, in the refrigerator.
According to the USDA, this is the safest way to avoid bacteria. A 16 pound bird could take 4-5 days, so plan ahead!
.

7:
Oops! I forgot to take it out of the freezer! What are my other choices?
Don't panic! You still have options! According to the USDA, you can safely thaw a turkey in cold water; it will take about 30 minutes per pound, changing the water every 30 minutes. This way, you can thaw a 16 pound turkey in 8 hours- though you may need some help keeping up with those water changes!
Microwave thawing is an option, but check the instructions that came with your microwave to determine if yours can handle the task. And make sure your bird doesn't have any metal clips, ties, or inserts!
.

6:

Brine fresh turkeys for the best flavor
I learned this the hard way the first time I cooked a fresh turkey! One year at Thanksgiving I thought I was going to be all fancy with expensive fresh turkey- and it was bland and dry as a bone! I later discovered that frozen turkeys are encased in a brining solution, but fresh ones are not!
Since then, I've discovered this Martha Stewart Turkey Brine recipe, and it comes out moist and delicious every time!
.
5:

I don't have room in my fridge to brine a turkey!
In college, we called it the beer drawer- my mother called it the slime drawer. But whatever you call it, and whatever you put in it: take it out, and use it to brine your turkey!
This brilliant hack from thekitchn provides a food-safe container for the brining process and reserves shelf-space for all of your other holiday meal prep!
.
4:

Fresh and frozen birds cook differently
According to Skip's Meat Market in Rochester, New York, fresh turkey cooks a lot differently than a frozen one does. Fresh turkeys tend to roast much more quickly than frozen, thawed ones do. Use a meat thermometer on the thigh before the estimated time is up. The turkey is done when the thigh meat registers 165°F.
.
3:

I'm WAY behind- can I cook it from frozen?
Yes, says the USDA and Williams Sonoma. But, the first thing you have to realize is that at this moment you are in damage control mode, so don't even begin to think about how to inject your secret seasoning blend into it or figure out how to stuff it with grandma's cornbread stuffing. Remember, this isn't about putting the best turkey you've ever eaten on the table, it's about getting a delicious, cooked turkey on the table.
.
2:
Give it a rest!
God bless my sainted Mother- as good a home cook as she was, she never perfected the fine art of turkey timing! I always wondered why our turkey always seemed to be crumbly bits instead of those juicy slices you see on TV. I now know it's because the turkey was always running late- it took longer to thaw and longer to cook than she had planned for, so it typically got sliced right out of the oven, which left it dry and crumbly. According to Cooks Illustrated, you should leave about 45 minutes before slicing and serving.
and finally, my NUMBER ONE tip for a beautiful turkey dinner:
1: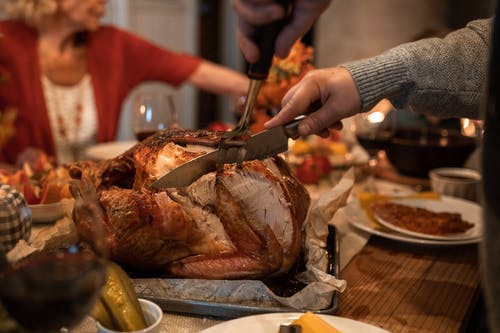 Slice it right!
Another reason our turkey was never beautiful when we were kids- my self-admittedly clumsy, left-handed older brother always insisted on doing the slicing. God rest his soul, he died before the invention of YouTube, so he never had the opportunity to learn and practice doing it correctly! After spending the better part of a week selecting, preparing, and roasting the perfect bird, set aside a few minutes somewhere along the way to make sure your slicing knife is properly sharpened and you know what you're doing!
Thanks for checking out my Top Ten Turkey Tips! Happy Thanksgiving!
....g