This is the story of how my love for old houses brought me from here:
to here: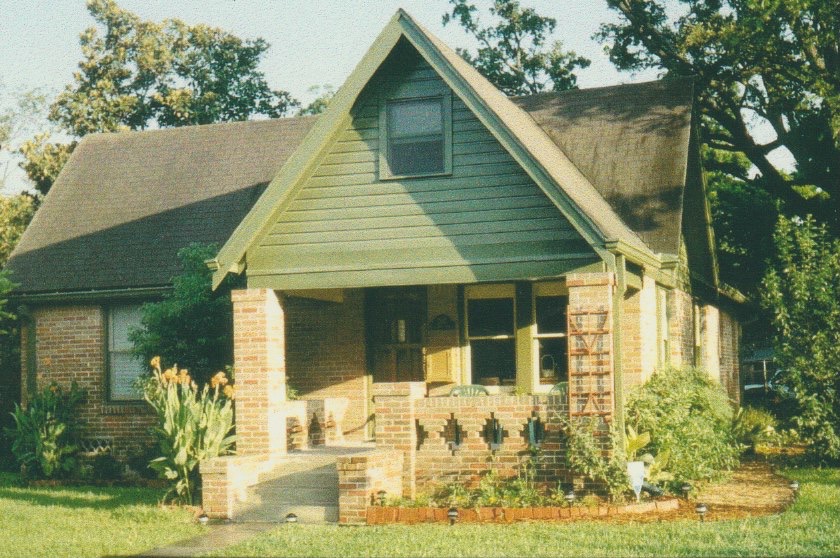 and eventually, here:
When I bought the house, it was painted pink. It had one huge window-unit air conditioner, most of the windows were painted shut, and the "garage" was in such bad shape that it was demolished as part of the contract. The landscaping was sparse, the bathroom a mess, and the red oak hardwood floors were covered with ancient carpet.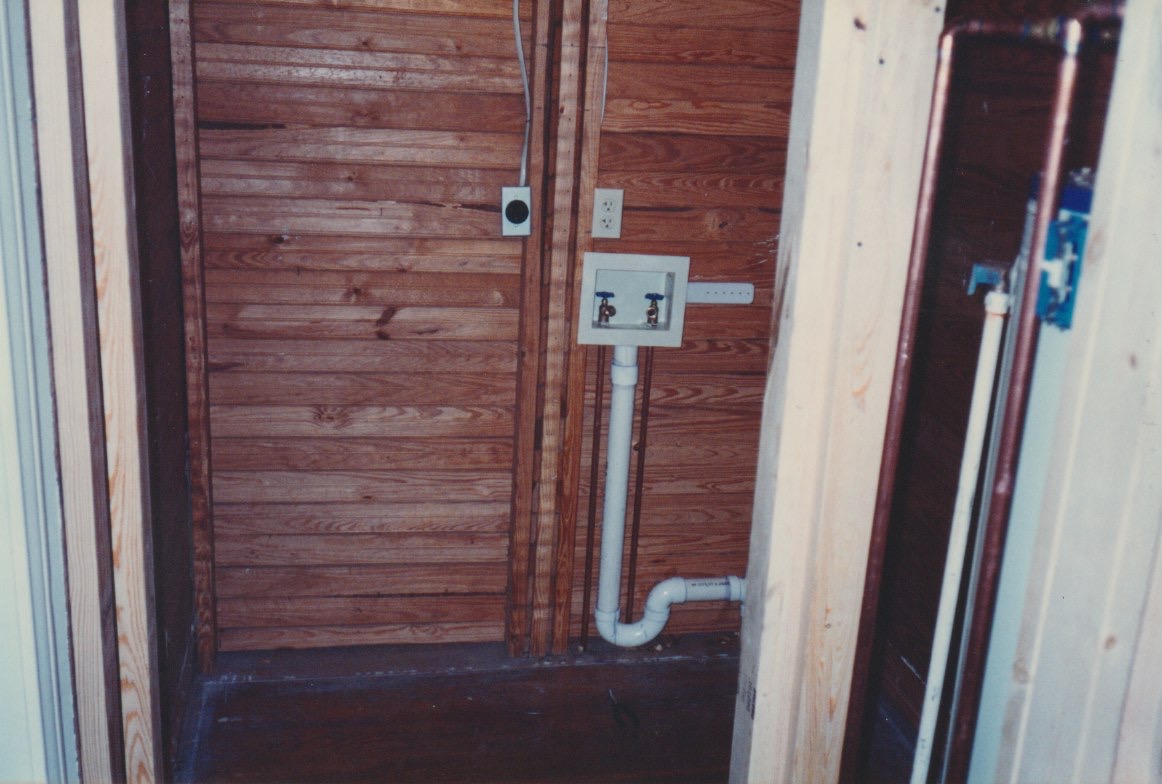 In addition to dated decor and ages of wear and tear, there were some functional issues that I knew I had to deal with from the beginning. At the time, I had a lot more enthusiasm than money, so I planned to do a lot of the work myself, but one place I lacked skills was electrical and plumbing. Since the laundry facilities had been torn down with the garage, and the ancient water heater was located on the back porch, it made sense that the first project would be to convert a hall closet into a utility room.
This rolled a year's worth of old-house education into a few weeks as I dealt with all that was unearthed. First, I learned about shiplap. Not decorative shiplap like you see on HGTV, but actual wooden walls! Prior to the invention of sheetrock, in Texas it was cheaper to mill lumber from the piney woods than it was to pay a skilled craftsman to apply plaster, so the walls were literally covered with tongue-and-groove panels nailed to either side of the studs. To provide a smooth-looking surface, the wood was covered with muslin cloth, which was moistened, and then allowed to dry, so it would shrink and smooth itself out. On top of this, wallpaper, made of real paper, not the vinyl stuff we have now, was glued to form a decorative covering.
At some point during the 50's or 60's this house had been updated with sheetrock, which was applied on top of the layers of shiplap, muslin, and wallpaper. After making this discovery while trying to enlarge a doorway, I learned very quickly why the spring bar and sawzall would become the most important tools in my arsenal!
Once the wall was opened up and the framing was in place, I had a plumber come in to install the water heater and washer connections. Not only did I not want to be sealing my unskilled handiwork into the walls, plumbing is dirty work that requires crawling under the house, which I was not about to do! I also had an electrician come in to install the circuits for the dryer, which led to one of the first important whole-house upgrades.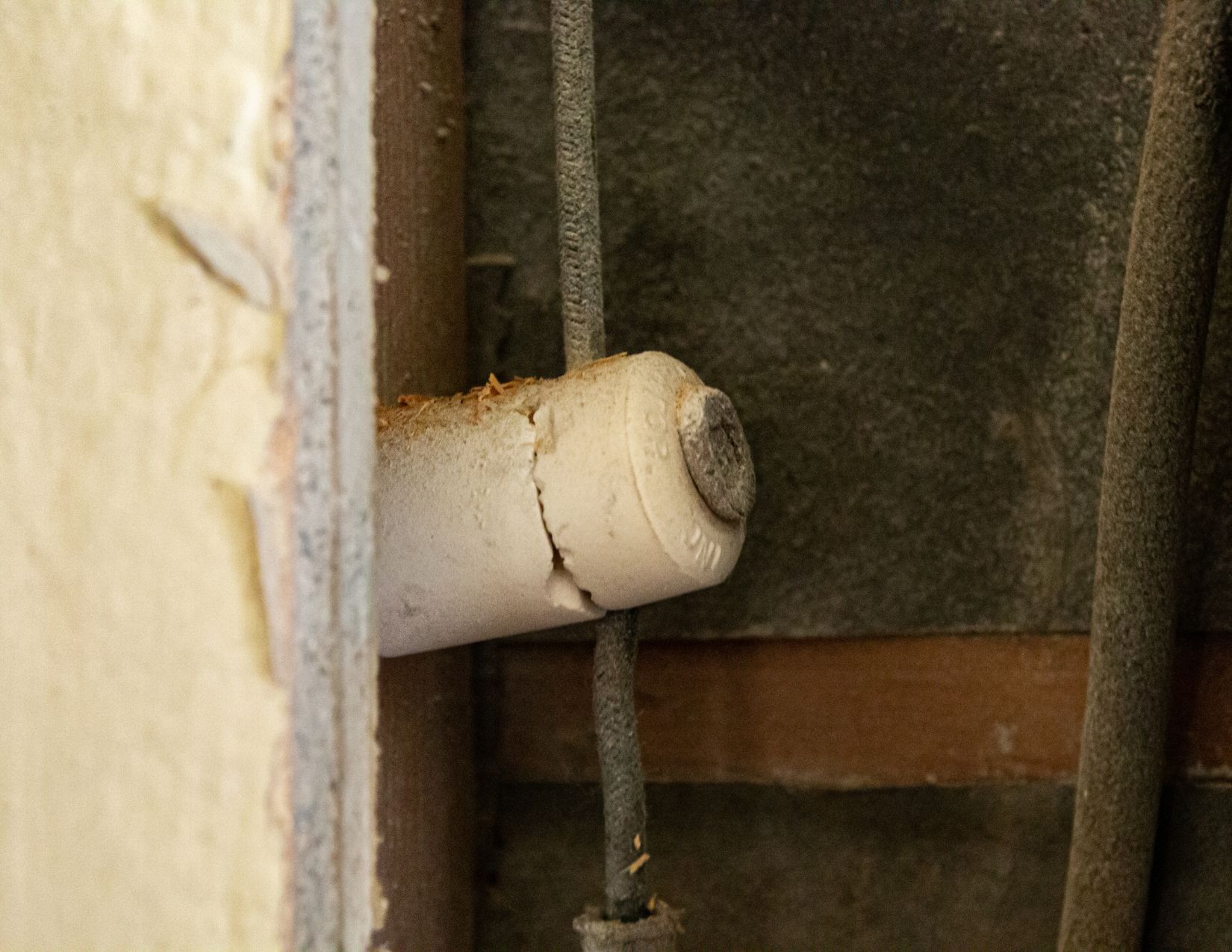 While my 1935 build, like most of the Heights, was built with electricity, the systems used back then were meager and dated. In the times before the invention of modern nonmetallic sheathed cable, which includes 2-3 conductor wires and a neutral grounding wire all wrapped up in a neat plastic package, homes were built with knob and tube wiring. In this system, individual cloth-wrapped wires were suspended along the attic framing member using porcelain knobs nailed to the lumber, or through porcelain tubes that were inserted into holes drilled through the lumber. Porcelain is a relatively poor conductor of heat, so the knobs and tubes insulated the wire from the wood, to keep overheated wires from burning the wood. I suppose it was safer, and certainly more convenient, than gas lighting, but it wasn't without risks, and didn't age well. First, the wires were covered with cloth. As an organic material, cloth was a favorite target of gnawing rodents, who would often eat away large lengths of the fabric, leaving live bare copper wires exposed in the attic. Even in the absence of rodents, cloth dry rots and decays over time, again exposing live wires. And cloth is absorbent, so while it insulates relatively well when dry, a leaky roof or burst pipe could quickly turn the insulator into a sloppy wet conductor! All of this was open in the attic, exposed to anyone who entered.
There were "hot" wires carrying the current to fixtures and appliances, and "neutral" wires to complete the circuits, but there were no grounding wires- that concept wasn't invented until the breaker switch became standard in the 1960's. Prior to that, homes like mine had fuse boxes, with screw-in fuses that held a sacrificial wire, designed to disintegrate from heat if the circuit becomes overloaded. Once that occurs, the fuse is unscrewed and replaced with a new one. My house was built with a paltry 4 circuits, intended to power the ceiling lights, the single outlet in each room, and very little else. I suppose at the same time the sheetrock was installed, someone added a supplemental breaker box to power a couple of additional circuits to the kitchen for the refrigerator and washer, but the rest of the house remained powered by knob and tube. In order to install the electric dryer, the entire tiny electrical system was replaced and upgraded, with a new grounded breaker box and additional circuits for the dryer and future needs, as well as a grounded outlet in each room.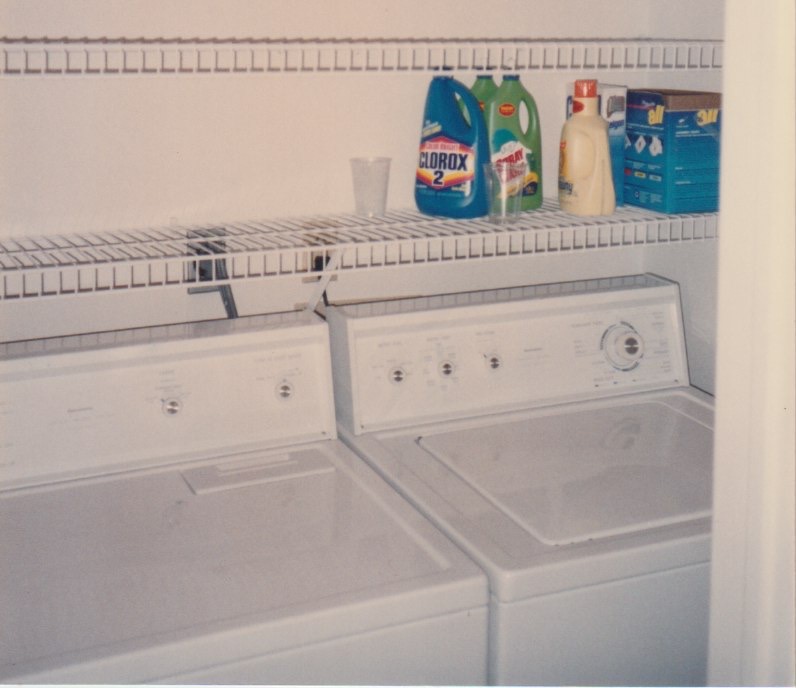 Once the plumbing and electrical were finished, I sheetrocked and floated the new laundry closet, gave it a fresh coat of white paint, and added some shelving for storage. New utility room complete!

Once the laundry room was done and the electrical system was updated, I pretty much lived on one side of the house while I worked on the other. I worked on it at night after working all day, and on weekends. I attacked big, messy, or involved project during weeks of vacation. I took my time, because I had way more time than money or skill, and learned as I went. I learned to use a paper tiger to remove the gold-flocked wallpaper that looked like it belonged in an old-west brothel! I wasn't sure what to do with the floors, so I just cleaned them with furniture refinisher, which gave them a beautiful. functional finish until I was ready to do something more permanent.
Most of the windows were painted shut, so as I went room-by-room, adding outlets, replacing fixtures, and repairing sheetrock, I also removed, sanded, and rehung all of the window sashes. That was a time consuming task, but it made the house far more enjoyable at the time. In subsequent remodels they were all replaced with sash packs; had I known at the time what a difference that would make, I might have done that sooner!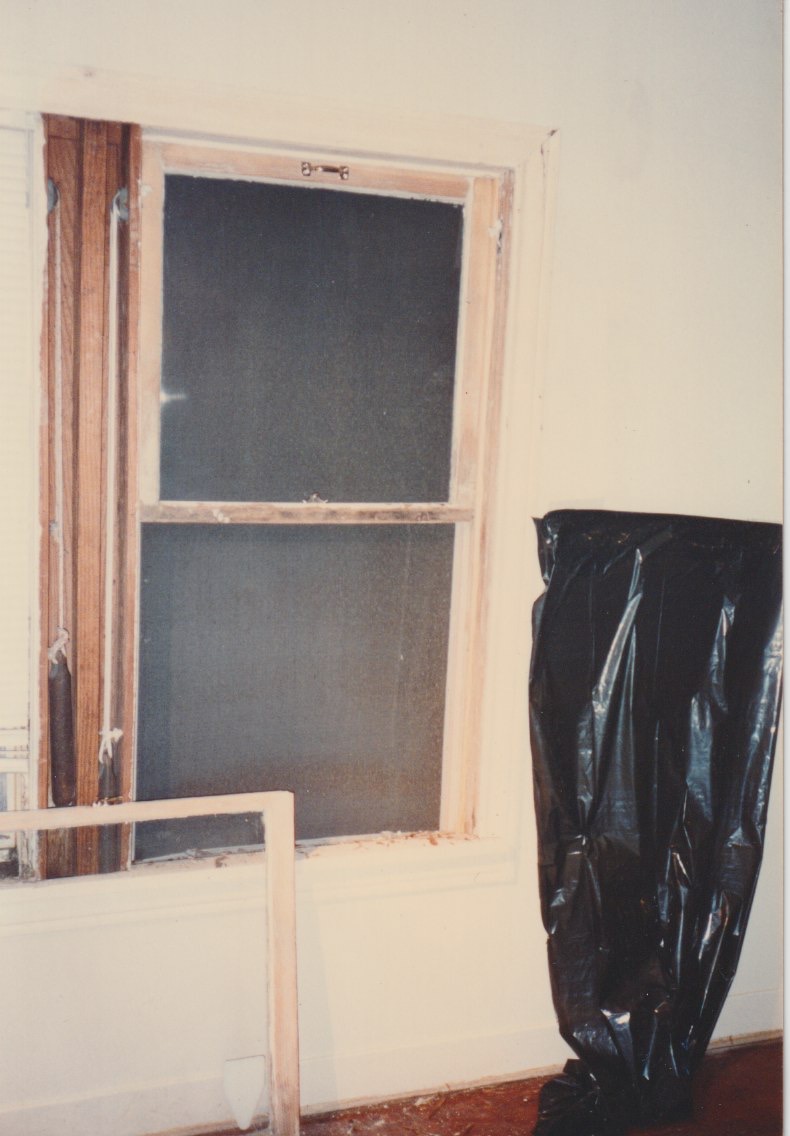 For the sake of history, this photo shows how windows sashes worked "back in the day." This is a photo of the right-hand side of one of the pairs of windows; almost all of the windows in the house were the same size, and installed in pairs like this. In the middle, you can see that the trim board has been removed, revealing the weight pocket between the 2 pairs of sashes. On the right and far left hand side, there is an additional sash pocket, hidden behind the moulding piece. This, BTW, is why older houses usually have much bigger, more elaborate moulding than newer houses- it was more than decorative!
Originally the sashes were hung with cotton rope, which deteriorated over time and eventually broke, allowing the weights to drop down into the wall. and leaving the sashes held in place only by the latch... or in this case, many, many layers of paint that sealed them into place. Once all of the paint was chipped away and the sashes freed, I could retie the weights, put it all back together, and repaint the trim, sashes, and molding. While delving into the wall cavities and discovering how double-hung windows worked was fascinating, it was a waste of time and probably a little dangerous. There's no telling how much lead paint dust I ingested while sanding those sashes and trim boards, and in retrospect it would have been far smarter to re-prioritize my limited budget and have the sash packs installed.
These windows are designed for homes without central air, and they had an important ventilation function. The house was heated with gas space heaters- the winter position for the windows would be to have the bottom sashes lifted slightly, to allow fresh air to flow in and prevent carbon monoxide poisoning. The summer position would be to lower the upper sash all the way... this allow heat to rise and escape at the top.
The modern sash pack replacements are the fast and easy way to accomplish and upgrade. Someone from the lumber yard came to measure the windows to ensure we were ordering the right ones. When they arrived, the installers quickly removed the old sashes, popped in the new ones, and cleaned up the mess. This gave us modern, double-paned windows that looked and operated just like the originals, only without the sash weights. A slide mechanism fits between the sash and the jamb and hold the window in place without counterweights. Quieter, more energy efficient, and easier to open and close- who wouldn't love that?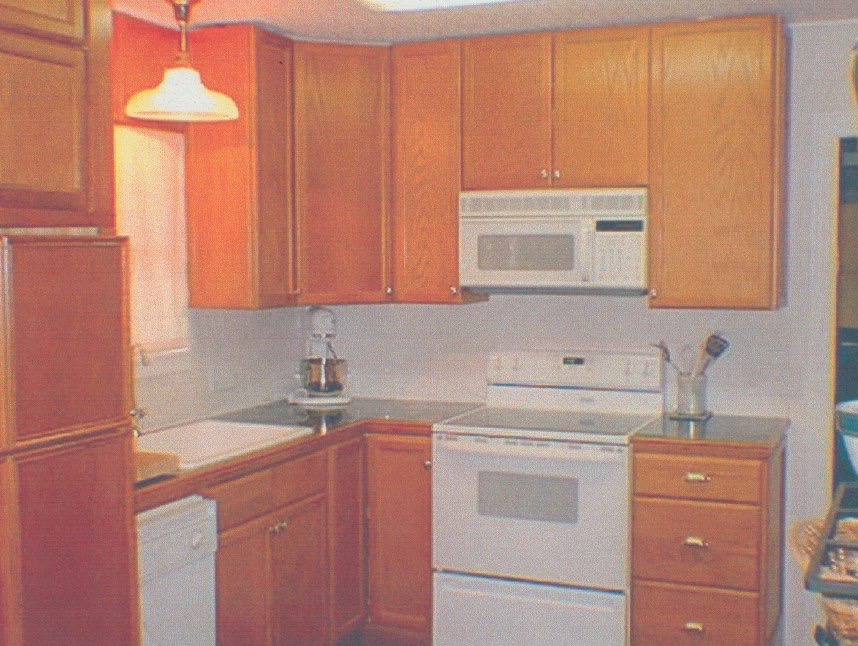 The next project I tackled was the kitchen- I don't have before photos, but it had several big problems. In an attempted remodel by the previous owners, it appears that custom cabinets had been removed from another home and reused here. The sink was not centered under the window (which made me twitch every time I looked at it) and the range sat right in front of the doorway, which I expect was supposed to have been moved to left, but never was. One day I can home from brunch with a little liquid confidence in me and started tearing it all out and tossing it into the backyard. Here came remodelling lesson #2: plan for disposal! Once I was done, I had a backyard full of discarded counters, cabinets, and garbage, and no way to get rid of it! Luckily I was able to find a local junk hauler who came and took it all away, but I would have been smarter to get a dumpster or something to contain it from the beginning.
I replaced all of the cabinets with inexpensive flat-pack cabinets from the home center, and use stone tile on the countertops, which was functional if not completely modern. Under the old linoleum floors, I found pine flooring that I painted hunter green, which was actually stylish at the time.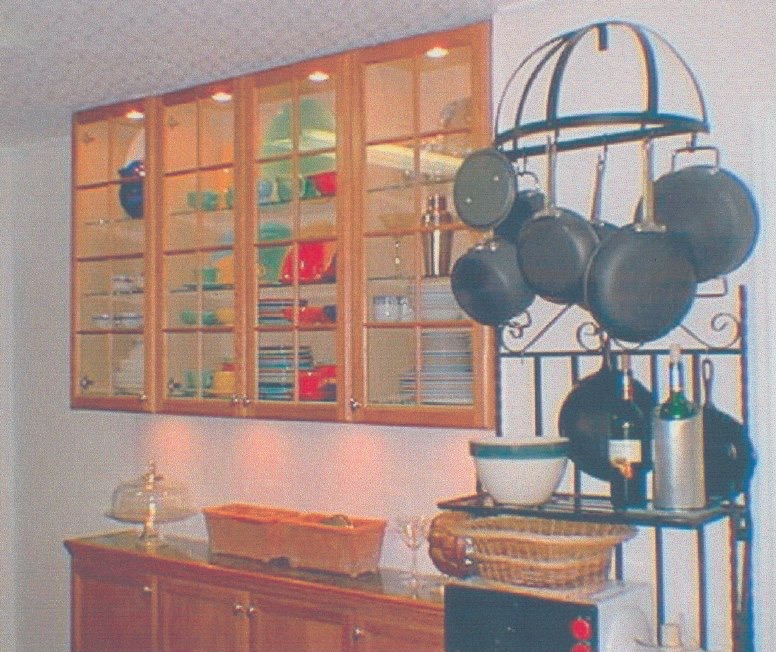 On the odd wall where the range had been, I installed wall cabinets top and bottom, so that the lowers would not stick out into the doorway. It solved the traffic flow issue and created a really convenient place for storage and serving, and turned out to be one of my favorite things about the house. When we remodelled again to enlarge, we liked this feature so much we repeated it
It made a cute, functional, period-appropriate kitchen that served me well, and probably cost about $18,000 in total. That includes materials, plus professional labor for electrical and plumbing, as well as appliances. The rest of the labor was provided by me and a few friends that could be coerced at the time with pizza and beer! I suspect today my friend's labor would be far more expensive!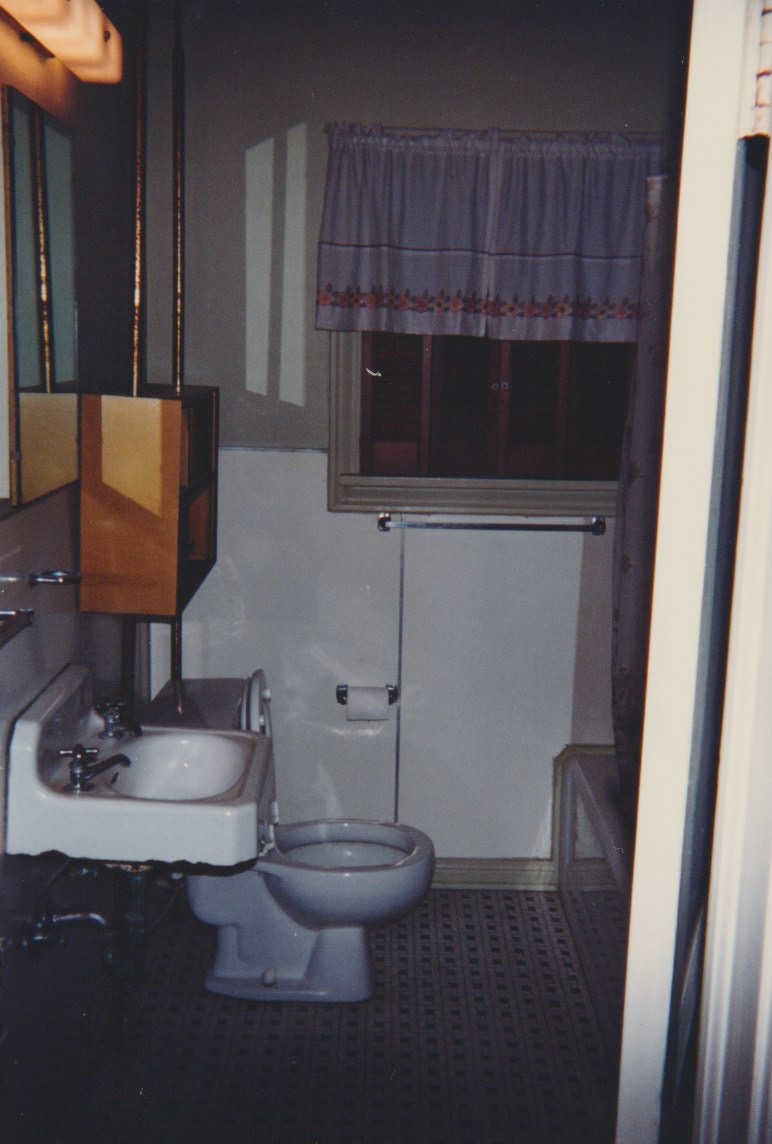 The final room to be dealt with was the bathroom, which only had one redeeming quality. The tile floor in the bath was a black and white mosaic pattern that was in amazing condition, giving its age. It was so cute and vintage that I wanted to be sure to maintain in, and even paid homage to it years later when an additional bath was added to the home.
Other than that floor, not much was worth saving. The lavatory dangled from the wall at an angle, and it had separate taps for hot and cold, like some old British prison. The walls had a wainscot of some sort of masonite tile board type material, which has been discolored over the years. Behind the door was a built in cabinet with a tilt-out dirty-clothes hamper, and when I bought the house it smelled like, well, old dirty clothes. I painted it when I first moved in and cleaned it up as best I could, but now it was time to rip out and start over.
In addition to ripping out the hamper, I ripped out the plastic shower surround, which was the wrong size anyway, and looked like it had been cut to fit with a pair of kindergarten scissors. That tile project made me realize just how much a good tile guy is worth, because my amateur installation looked, in fact, very amateur. But, it was clean, intact, and better than before, so I was happy! Years later, I learned why you can't just convert an old bathtub to a shower, and I'll share that in Part II of this series!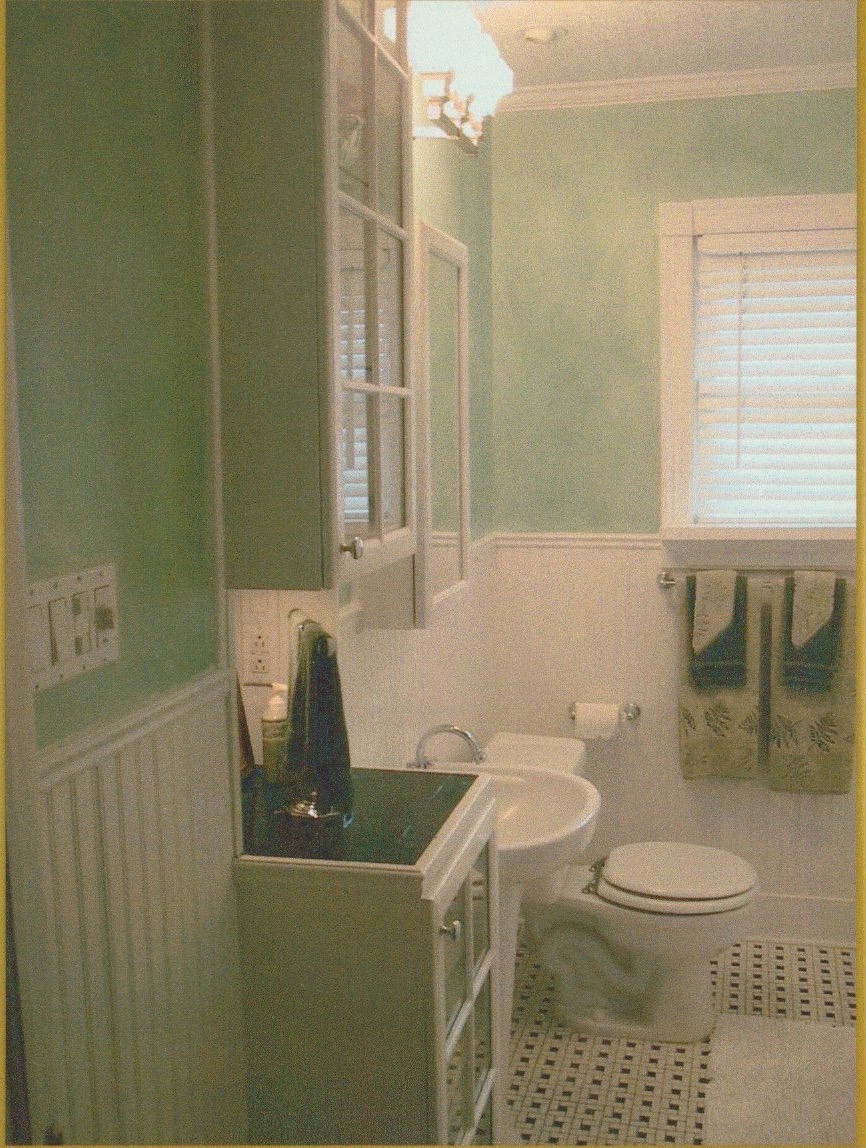 The wainscot was replaced with beadboard panelling, and the space where an archaic gas wall heater came out allowed the installation of 2 wall-depth cabinets to provide storage and little counter space next to the new pedestal sink. The space behind the door was refitted with a full-depth base cabinet, upper cabinets, and another counter surface for storage and display. New lighting brightened everything up, and for its size it became an attractive, functional bathroom.
The house served me in this condition for several years when I was single, and I learned so much about houses, and myself, while getting it to this point. When I later added a partner, and 2 cats, into my life, things got a little cramped.
And that, dear readers, will be revealed in Part II !